A veritable wavefest today! It was smaller than yesterday, about chest high, and almost windless. Although Luke and I weren't alone, the other two guys kept their distance and there were peaks for everyone. I lost track of how many waves I rode on Rocket. Best session in a long while!
My buddy and I shared a couple of waves. On a sectiony one, I was behind him going right. A few minutes later, we split a peak, each riding on our frontside. He said the right closed out on him but the left offered me a fun shoulder to play on. Between sets, we had a nice chat about dopamine, inconsistent rewards, and other aspects of being a
surf addict
.
This dude warmed up the waves for us, then left
Duty called and Luke went in after about an hour, but I stayed a bit longer, not wanting the fun to end although the tide was rising near a king high. We'd moved south on purpose, so he had a little walk on the beach back to the parking lot. After another right, I decided to shorten my walk by riding a left some of that distance. I caught another playful one and rode shoreward, forgetting to pull out before it reformed as shorepound. I bailed last minute and took a light board-slap to the chin, but it couldn't wipe the stoked smile off of my face. Soooo much fun!!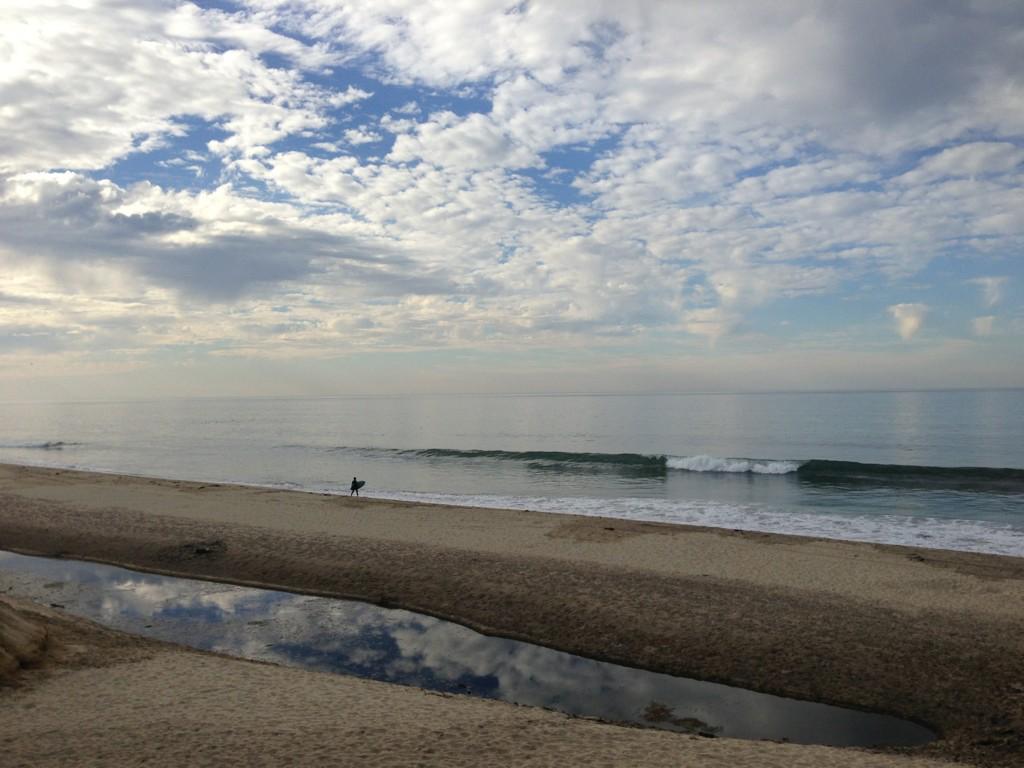 Stoked Surfergrrrl (photo by Luke)
Surfline: Easing WNW swell and minor/background SSW swell combine today for 2-3 occ. 4' surf at better breaks of the region. Winds are light once again and conditions clean for the dawn patrol but expect a little more onshore flow this afternoon. Big high tide has things pretty swamped out and slow through the morning though. Buoy 46026: (Wave) SWELL: 2.0 ft at 10.0 s W 103 / WIND WAVE: 1.6 ft at 3.1 s E / WVHT: 2.6 ft / APD: 4.5 s / MWD: 277° (Met) WSPD: 10 kn / GST: 14 kn / WVHT: 2.6 ft / DPD: 10.0 s / ATMP: 57° F / WTMP: 55° F. Tide: 5' rising to 6'.