Rocket was reluctant to leave the board bag this morning.
Very
reluctant. After tugging and shaking, twisting and pulling for several minutes, I'd only dislodged my board a few inches. The bag is a tight fit, and I assume the warm weather melted the wax just enough to get Rocket stuck inside. I gave up and asked a nearby surfer boy to help out. With him pulling the board and me hanging onto the bag, we finally got Rocket free to surf.
Perhaps I should have taken Rocket's reluctance as a sign. The warbly waves were mostly closed out, head-high to a bit over on the sets and punchy. I spent an unfortunate amount of time getting rolled. I'd told the friend of Rocket-Freer where the submerged rocks are before we paddled out, and I found one of them with my knee during a particularly thorough thrashing. For my trouble I got one decent bouncy left. It was a smaller wave, about chest high, but I was happy to have a shoulder to play on, however briefly. When I was ready to come in, I caught another left that sectioned right away but let me ride a little before dropping me in the heavy slosh near the riprap wall.
Still, the weather was beautiful! So no complaints. Any day surfing is a good day.
Late fall bloom
Surfline: Strong, reinforcing pulse of WNW (270-310) swell joins continued/solid NW-WNW (290-310) energy this morning. Better breaks are running head high+ to double overhead range while standout exposures pull in some solidly double overhead+ sets. Challenging but good surf. Setting up to be another classic Fall day. Buoy 46026: (Wave) SWELL: 6.9 ft at 13.8 s WNW 99 / WIND WAVE: 1.0 ft at 3.1 s ENE / WVHT: 6.9 ft / APD: 9.2 s / MWD: 288° (Met) WSPD: 8 kn / GST: 10 kn / WVHT: 7.6 ft / DPD: 14.0 s / ATMP: 62° F / WTMP: 58° F. Tide: 3' low rising slowly to over 3.5'.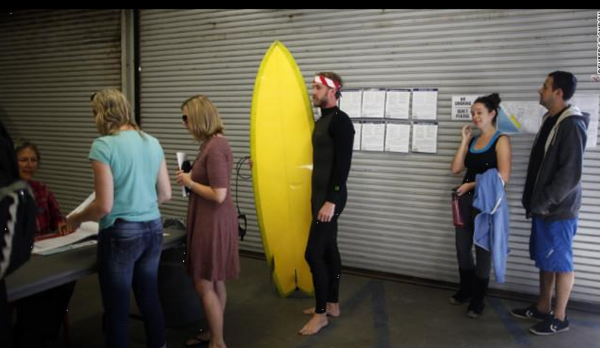 Don't forget to vote!